11
minute read 📖
Making money through music is one of the most satisfying feelings for you as a musician. It is your passion and it's probably your dream to turn it into your profession; you find your peace of mind by working doing what you love. Whether you are teaching beginners online or selling your own music through various distributors or record labels, you are getting to make a living in a much more creative way than others do. At least that's the plan.
There are times when musicians don't find a way to make money with their music. And that's perfectly fine if you enjoy it as a hobby or a cool party trick. History has seen many musicians give up making music because of poverty. This is not a uniquely American issue either; musicians worldwide have trouble eeking out a living on music alone. Music is a superstar economy where a very small percentage of artists and their works account for a disproportionate amount of revenue. While overall earnings continue to rise year over year, less of that revenue is going to the non-superstar. You are facing an uphill battle, but it's one that's worth fighting for. In 2019, the latest year data is available for, artist-direct revenue clocks in at $863 million. That may sound like a lot, but it's only 4.1% of the total $21.5 billion the global recorded music industry raked in. The silver lining in these statistics for you is that artists with no record label was the fastest growing segment for the fourth consecutive year with an increase of 32.1% over 2018.
There is no guarantee that you can sell your music or people will buy your music. Musicians are often afraid to decide if a music career is right for them because of the high risks. They are often at a loss when it comes to mitigating that risk, but there has to be a solution. How do they reduce the risk? What is the procedure of diminishing it altogether?
Making money with your music will probably be very difficult for you, especially if you are new in the industry. Nevertheless, it is not impossible. In the tech-focused age we live in now, you have to make sure that you organize automated and assorted revenue streams that will clear the path to reducing the potential risk so that you can dream of building your career by making music.
Keep in mind that there's more than one way to skin a cat and these are some of the best ways that you, as a beginner, can crank up the heat on your music career. Let's dive in to demonstrate the different ways you can make money with your music.
Making Money with Music
Having more than one revenue stream is vital when you are starting out your journey. Unless you collaborate with a major record label, you will not likely be able to generate much money with your music. As you have a series of revenue streams, it will help you focus on making music rather than marketing or selling it. Let's look at the most conventional, yet lucrative revenue streams that might be your best options to monetize your music.
Streaming Royalties with The Help of Digital Distribution
Many musicians do not tend to understand the difference between a streaming service and a distribution network. If you are going to make money with your music, you have to understand the difference between the two.
The platform that we use to listen to various types of music is called a streaming service. There are a lot of streaming services available on the internet currently. The most popular ones are Spotify, Apple Music, Google Play Music, Amazon Music and that list seems to be growing every year.
A distribution network is a network that manages your earnings through these streaming services. They will distribute your music to these streaming companies and collect all the streaming revenues you get through these platforms.
As Spotify and Apple Music are the most popular among tons of platforms, you should target these services to stream your music. Alongside these two big fish, you can also target YouTube Music, Google Play, and Amazon Music. Some platforms are dedicated to specific genres, but most are open to all genres. If any particular one of them seems relevant to your music style, you can go with them.
Live Performances Will Get You Ahead
If you ask The Music Box about the most lucrative method of making money with music, we would have two words for you: "GO LIVE!" Technology has come a long way, and people are publishing their music on the internet more and more each day. But, there is nothing that can beat live shows. After all, your fans and followers are seeing you perform in person. Do you think there is a better way to enjoy music than this? Absolutely not. People love buying experiences so give the people what they want!
Finding Paid Gigs
Playing live can come with a good payday. Beyond that, the more exciting part is it also helps you build a fan base over time. Gig fans are more significant to you than social media fans. They spend money to buy tickets to watch your shows. If you are new to the industry, you should check out our Ultimate Beginner's Guide To Booking A Gig. Some good local venues might be useful for you to build a fan base. Gig booking sites and apps such as GigSalad, Indie On The Move, GigMaven, Gigmor and The Bash are great destinations to book local venues to play your music on the stage. Gig booking platforms often tend to organize corporate shows that are targeted for a broader audience, but you'll also find many bars, coffee shops and other smaller venues there. Going with these platforms can get you a decent paycheck, but don't expect genuine fans at these kinds of performances. On the other hand, if you want to build an audience for your career, you should find small venues that are very welcoming to new acts. The downside with paid gigs is that you are trading your time for money and can often be dependent on the economy or other global-impacting issues as we've seen with the COVID-19 pandemic.
An Electronic Press Kit
It is extremely valuable to provide an Electronic Press Kit (EPK) to a venue when you reach out for booking gigs. An EPK is the portfolio of yourself as a solo musician or of your band as a group of musicians. You include all the information about your band and your music in the EPK. Information such as your logo, albums, music, videos, images, etc. are all items that are expected in your EPK.
Band Merchandise Online
Another popular revenue stream for musicians is to sell band merchandise on the internet or at live shows. When you have an automated e-commerce store it will bring additional revenue for your band. You don't even have to spend hours after hours behind this. As a result, you get to focus on your songwriting and make some extra bucks at the same time.
An online storefront is easy to set up with platforms like Shopify or WooCommerce, which both enable you to create an e-commerce store within no time. You get to sell a range of products on your online store. Products such as t-shirts, hoodies, posters, wristbands, headbands, jackets, mugs, pins, stickers and bags are perfect options to sell online. To get started, you need to have a logo for your band and a custom domain if you want, or even integrate it into your EPK site. Then set up the technical details of your online store with the help of your sales platform. Once you've made it that far you can then automate the site with a print-on-demand app so that they can take care of the production process. Companies such as BigCartel, Printify, CustomCat, Printful and Teelaunch are good options when it comes to choosing a print-on-demand service. Once you craft the online store with your products and everything, you don't have to worry about the logistics of fulfilling orders or dropping off boxes to the post office. The biggest benefit of the print-on-demand companies is that they handle the process of printing, shipping, and even payouts in order to give the customer, your fan, the best possible buying experience..
Side Hustles and Freelance Platforms
The options are endless when you think about the ways of making money through music. Side hustles are another way of making some extra money in the long run. You can collaborate with different brands and musicians that match your music genre and style. There are a lot of freelance marketplaces that allow a musician to provide a service on their platform. For example, you can perform a custom jingle for a person's birthday or consult as a promoter. Perhaps you're able to transpose sheet music, arrange a song or work as a session musician. Websites such as Fiverr, UpWork and Freelancer are good options to offer your music skills. Besides, some companies are intended to collaborate with musicians. These platforms can also get you an earning. Platforms such as Vampr, Vocalizr and Jambro allow you to connect with other musicians around the world and create something together. Meanwhile you can use SoundBetter to find specific freelance music-related jobs.
Sell Your Beats and Samples
There is good value in the market for digital products. If you are a producer or beat maker, you have the option to sell beats and samples on marketplaces such as SoundBetter, MelodyNest, and AirGigs. Many producers even make their first income from music with this step. One of the benefits of these platforms is that it allows you to earn income while enabling you to become more proficient and professional in music production. But, to sell your digital products, you have to learn a series of skills. These skills should include:
Mixing and Mastering
Selling your beats and samples comes with your specific skills of mixing and mastering. The level of your technical quality will determine how well you can sell your tracks. If you are not good at producing music, then you might want to brush up on these skills.
Licensing
You have to give rights to your customers when you are selling the beats to them. Every time they pay you, the rights go to them. Hence make sure you get the hang of your licensing. There are many different types of licensing agreements, so decide what's best for you. In general, it will be either an exclusive or non-exclusive license.
Non-exclusive Beat Licensing – A non-exclusive license means more than one artist could legally license the beat. Once you record your vocals to a beat that was licensed to you, that new song is called a derivative work. Even though you just made a new song, you only own the copyright to the lyrics. The producer still owns the copyright to the beat and can be heard on many other tracks.
When you submit your song to distribution services like AWAL, Believe, CD Baby, DistroKid, Kontor New Media, ONErpm, Stem or TuneCore and they require you disclose the copyright owners of the song, you'll have to tell them that you only have copyright over the lyrics and that you've created a new work with a copyright-protected audio track that has been non-exclusively licensed to you by the producer.
Exclusive Beat Licensing – An exclusive license means only one artist will be the exclusive licensee of a beat. Once an exclusive license is sold, no other artists will be able to purchase a license to use the beat. However, previous non-exclusive license owners can still use the beat based on the terms of their previous agreement and the producer still retains copyright ownership of the beat.
The term exclusive rights can be used to describe an exclusive license, as explained above. However, sometimes producers sell exclusive rights and put in their contract that they are transferring complete ownership of the beat to an artist. This is also known as purchasing a beat outright or a work-for-hire. Under most circumstances, this only happens when the offer is a substantial sum of money or the producer has no idea what they're doing, which is unfortunately often the case with rookies.
Marketing
Make sure that you gather some ideas around marketing your services on social platforms so that you can gain more and more customers over the long haul. This seems obvious, but it often gets overlooked. Try some creative strategies like submitting to high-traffic YouTube channels that do remixes of music in your genre.
Teach Music or Sell Lessons
There are two types of musicians in the world — the ones who want to be superstars, and the other ones who want to help people be superstars. Online learning platforms such as Udemy allow you to sign up as a music instructor where you can sell your courses. Additionally, you can open gigs on Fiverr or LiveMusicTutor.com and offer lessons on an hourly basis. And of course you can teach lessons locally where you are, or even do those virtually with the help of readily-available technology.
How to Simply Build an Audience
If you want to build an audience, you have to do more than what we discussed above. Marketing your music is key to building an audience. Your career depends on your audience, so you need to understand the essentials of marketing music online.
Get Feedback & Make Connections
Get your music out to the world in a selective way if you are still early in your career by submitting your song to SubmitHub. SubmitHub is an online platform where you pay a small fee, typically under $5 per submission, to connect with bloggers, labels, Spotify playlisters, YouTubers, radio stations and influencers. They aim to make the process of sending music to curators as easy and transparent as possible. Music bloggers and playlisters have a lot of influence in the music industry. Major Labels and the editors at Spotify and Apple Music look to them for early tip-offs about the best new songs to feature, so picking up a few solid placements could mean the difference between getting 100 plays on your new song, or getting 100,000 plays. Be prepared for some harsh feedback from some bloggers, but it will help you develop a leather-thick skin that's much needed in this business. You can use these connections to line up support for release day as well.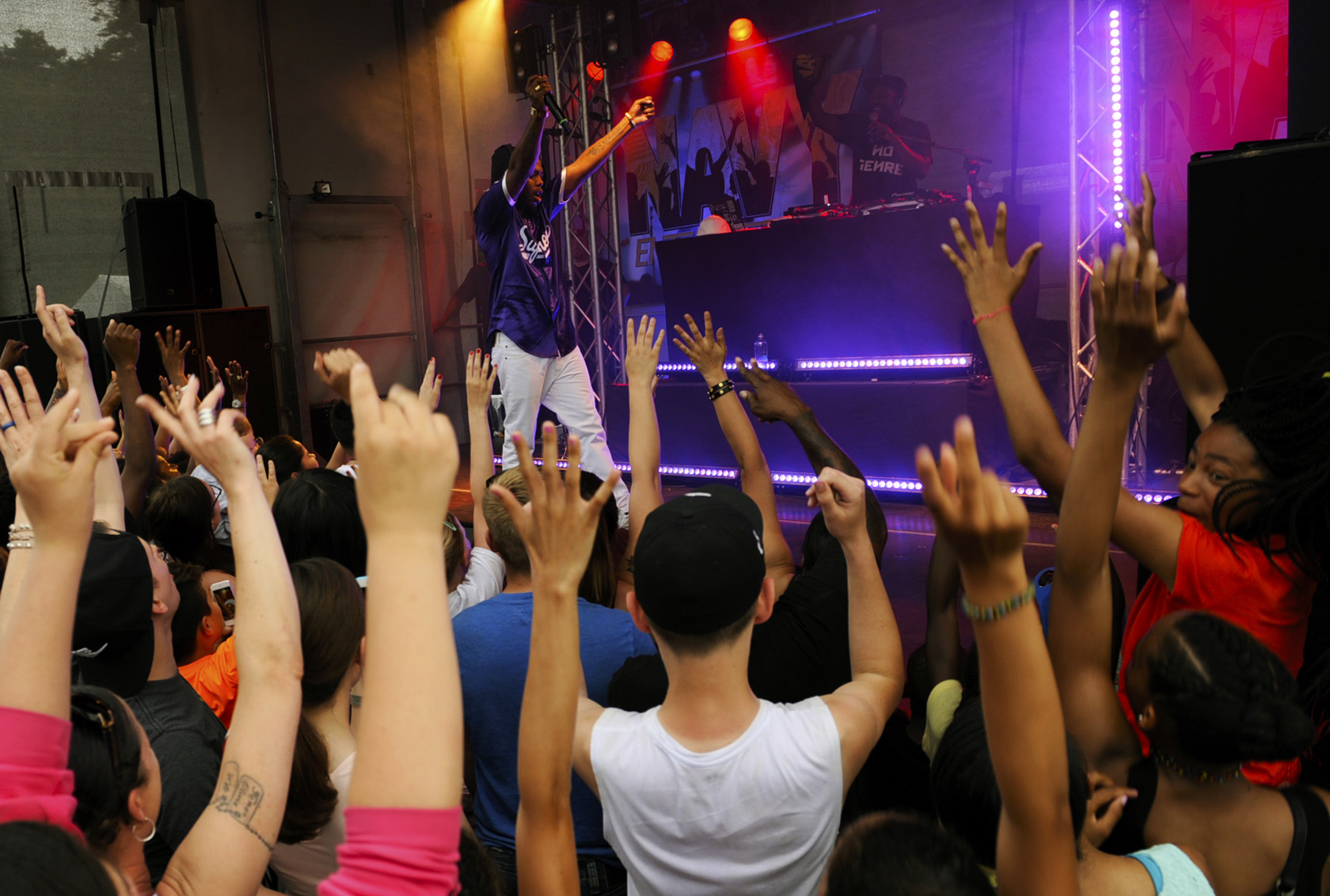 Social Media Page
Streaming platforms aren't enough to build a fan base. You have to target an audience on social media sites to get to know you more and more. Social media pages play a significant role in marketing your music. On these pages, you can share the latest information about your band, albums, songs, and music videos. You can even go live while you are playing a gig and show it to your audience who couldn't make it to attend the concert.
Musical Blogs
There are a lot of musical blogs on the internet that accept submissions from various musicians. If you find an excellent blog that matches your music genre and niche, you should think about submitting your music to this one. Get your EPK and attach it to your music while you submit your work. Add your contact details as well. This helps to reach people. You can go this manual route to really target some specific blogs, but see above for reaching many bloggers at scale with SubmitHub.
Music Videos
People love to watch videos these days. Songs on YouTube have a greater reach than other platforms. It is because visual content grabs the attention of the audience. Creating unique visual content and sets you apart is what you should be doing. If it turns out to be a good one, your video has a great chance to go viral which can in turn convert to EP or album sales or additional placement in commercials or television shows. Some videos take a lot of money for the production but fail to catch the audience's attention. You don't want your video to be one of them. Pay close attention while brainstorming the ideas of your music videos.
All On You
Targeting many methods of making money is the best strategy for a musician. You have to manage a diversified profile of revenue streams so that you never stay broke by being a musician. If one source doesn't work for you, you'll have another to prop you up. Don't put all your eggs in one basket.
The more you work with diversification within your music career, the less vulnerable you are to the risks. If you don't have several revenue streams, no matter how much money you spend to make music, the end result will likely not be what you were hoping for. Keep in mind that this idea should remain at the forefront of your business practices, but the different methods will change in time. It's impossible to predict what the next stream will be, so be sure to stay on top of industry news so that you aren't left behind even faster than you might be otherwise.
More…
Do you have something to contribute to professional musicians? Submit a post of your own here. The Music Box is the premier band rehearsal facility in Dallas, TX. We offer 24/7 rehearsal studios at multiple locations for use on a Monthly or Hourly rental period. With convenient online booking and the best customer service, The Music Box will give your artists the best place to Get Loud and Get Better!
I'm the co-owner of The Music Box and a lifelong musician as a euphonium player. The son of a band director, alumnus of the University of Alabama and father of 3, I keep busy on my Peloton and managing multiple businesses.